Isagenix®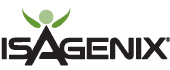 The revolutionary practice of Nutritional Cleansing, which can result in greater health, well-being and weight loss, is the foundation in which Isagenix® and its systems were developed.
Nutritional Cleansing is built upon the health routine of cleansing, including fasting and drinking herbal remedies, which has been practiced throughout history. Cleansing gives the body the chance to rest, regenerate and assist in its natural ability to remove toxins and impurities to promote long-term wellness. However, Nutritional Cleansing improves upon this ancient practice with a system that cleanses, replenishes and revitalizes the body with essential nutrients. Fasting helps to remove impurities from the body, but Nutritional Cleansing speeds up this process by infusing the body with healthy nutrients.
In simple terms, Nutritional Cleansing can be compared to changing the oil in your car. We regularly change the oil in our cars because it gets dirty and clogged by pollutants. We drain the dirty oil and replace it with clean oil, which helps our cars to run more efficiently. The same can be said for our bodies. We are regularly exposed to pollutants in our environment, impurities in our diets and stress that is often created by our hectic lifestyles. Nutritional Cleansing helps the body and organs to do what they are designed to do naturally and remove impurities.
Isagenix® has created the practice of Nutritional Cleansing and developed systems that help to promote optimum health. Isagenix® systems focus on a complete approach to greater health and wellness with Nutritional Cleansing, a low-calorie meal routine and taking essential daily nutrients. Cleanse Days are a period of low-calorie intake, with no meals and only suggested snacks, accompanied by our Cleanse for Life™ liquid nutritional supplement, which replenishes the body with essentials vitamins and minerals. The low-calorie meal routine consists of Shake Days where one to two meals are replaced with healthier options such as nutrient-rich IsaLean® Shakes, Bars or Soups. The third meal is a suggested low-calorie, nutrient-dense meal. The final component of our systems is an infusion of essential nutrients, which includes daily supplements taken that provide essential vitamins and minerals to optimize health.
Our Nutritional Cleansing systems are not a "quick-fix" or a diet, but a means to creating a healthy, manageable lifestyle. The benefits of Nutritional Cleansing, combined with the convenience of a complete wellness system, has given people the ability to change their lives in remarkable ways and has created greater health and safe, lasting weight loss for hundreds of thousands of people.