Chiropractic Care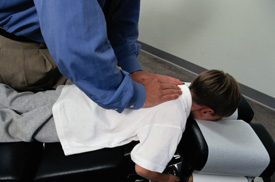 The benefits of chiropractic care are numerous: pain relief, improved function, the restoration of balance to your body, and an overall greater life can be the result!
At Princeton Chiropractic and Sports Rehab, Dr. Sofo focuses on the health of your nervous system by looking at the spine. The spine and the vertebrae that make up the spinal column are affected by the stresses of daily living — sitting at a computer, repeated standing or lifting and injury, just to name a few.
When your vertebrae don't have proper mobility, the nerves that go through the spine are affected. The result? You'll feel pain, discomfort, illness or disease.
What type of problems can you help?
Some conditions that can see the many advantages of chiropractic care, which is often combined with laser therapy, include:
Neck, Mid and Low back Pain
Ankle pain
Arthritis
Elbow pain
Foot problems
Headaches and migraines
Knee pain
Plantar fasciitis
Rib pain
Shoulder injuries
How do you perform an adjustment?
Dr. Sofo's goal is to make you feel better, ensuring you're comfortable during your treatment at our office. He utilizes different techniques, offering both manual and instrument-assisted methods. We'll decide together which is best for you based on your specific case and your preference.
For how long do I have to see you?
You go to the dentist every six months to ensure that you don't experience painful cavities. Similarly, regular visits to Princeton Chiropractic and Sports Rehab can prevent your spine from breaking down, avoiding serious problems in the future. We'll work to get you out of pain initially, then educate you on the advantages of continuing care. The choice is up to you!
Convenient Saturday appointments are available. Contact us today to schedule your visit!
---
Princeton Chiropractic
and Sports Rehab
601 Ewing St., Ste C3,
Princeton, NJ 08540
(609) 921-1705
Princeton, Mercer and Somerset county families enjoy chiropractic and its amazing benefits.